Oteyza: 'The future of fashion will revolve around authenticity'
Originality, luxury and craftmanship are three of the values that define the Oteyza brand. Since starting out in 2011, Paul García de Oteyza and Caterina Pañeda – partners in life and work – have made quite a splash in the world of international high fashion, thanks to their reputation for creativity, commitment to quality materials and affinity for their Spanish roots. Their award-winning designs have been enthusiastically received at runway shows all over the world. 'Arcadia', a fashion film showcasing their AW2021 season, was shot at La Alzada, the Toledan country home they discovered through The Singular Space. This picturesque natural setting proved the perfect backdrop for their new collection.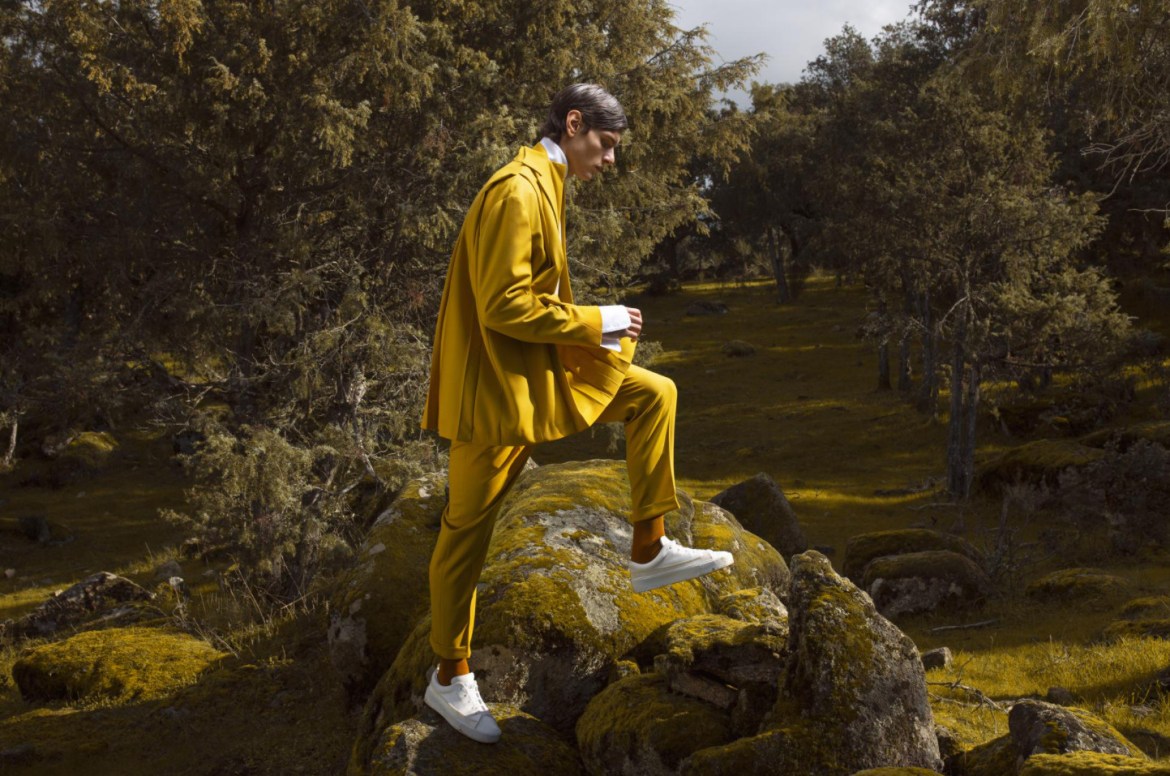 But why turn the project into such a personal affair?
Paul García de Oteyza: We found ourselves overtaken by events. It was the middle of the pandemic, and there was no way we could travel to Paris to present the collection. Our only option was to pivot to a digital format, and we decided to film it at the Toledo property. In truth, it's an absolutely gorgeous location. You've got an incredible setting, nature all around, and combined with the whole pandemic situation it was just crying out to be filmed. So that's what we did.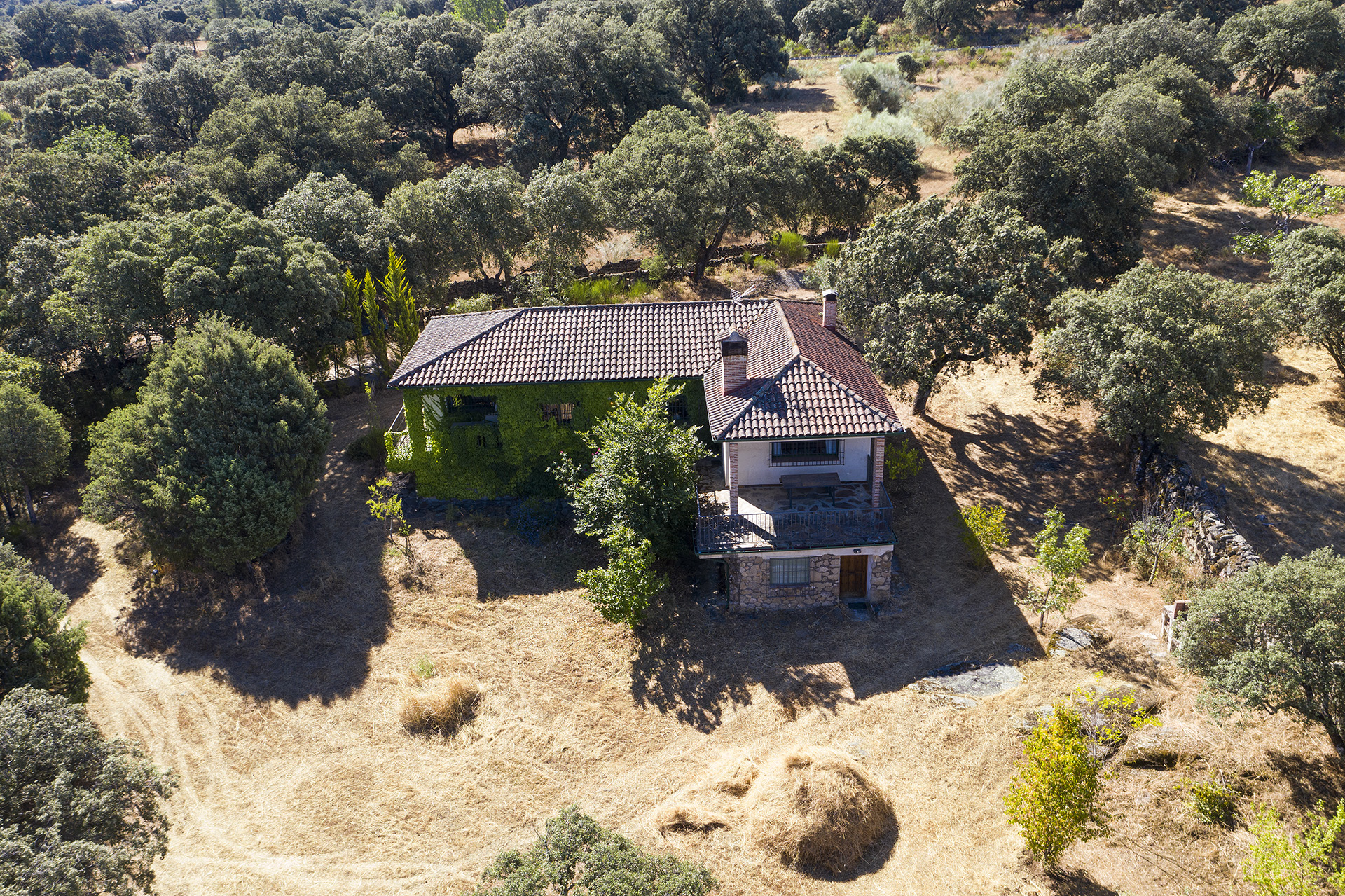 Your new collection is partly inspired by your love of nature. How would you define the ethos of your AW2021 collection?
Paul García de Oteyza: It's a collection that builds on the kinds of pieces we've been working on for a long time. We've doubled down on tailoring and millinery, with a rich autumnal palette. At the same time, we've introduced more vibrant pops of colour, which somehow seem particularly evocative of La Alzada. Those intense blue skies, the moss greens that are everywhere we look, ochres, mustard tones... We tried to combine them into a single palette, partnered with an accent on merino wool, which is such an earthy fabric that always takes me back to the grasslands of La Mancha.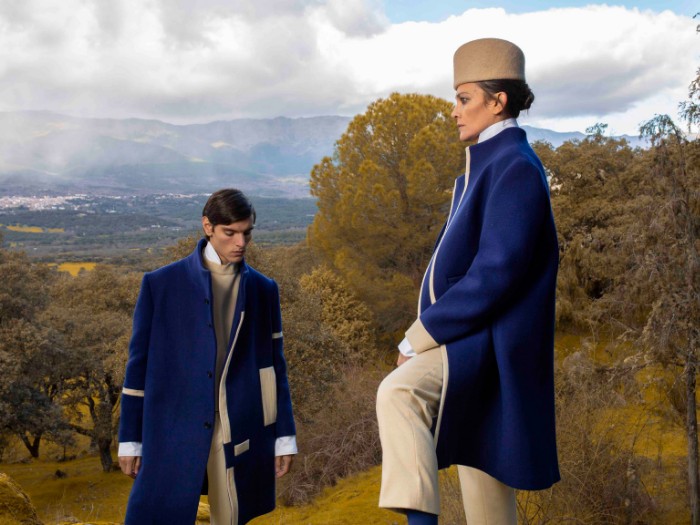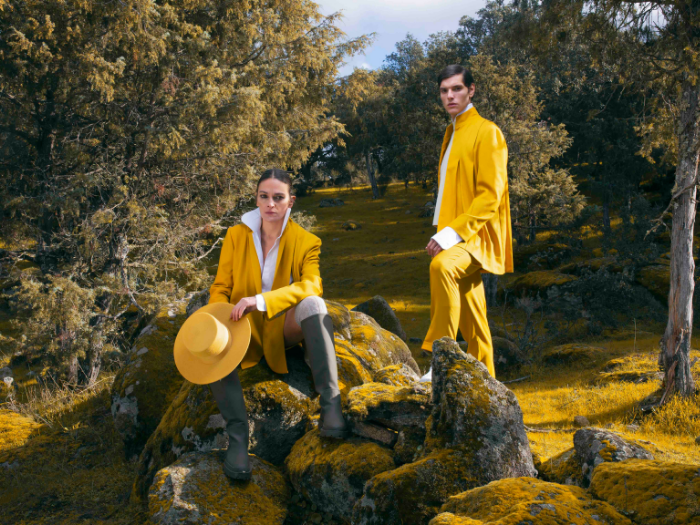 Have you extended your trademark style to the interior of the house?
Caterina Pañeda: It all more or less ties in. The interior design is pretty representative of our approach to fashion. In fact, we have a series of artworks made from leftover fabrics from previous collections. They serve both as reminders of where we've come from and expressions of our creative vision.
You began as menswear designers, and now produce collections for women as well. What prompted you to make that leap?
Caterina Pañeda:It's something that women were asking for, and it seemed like the natural next step. Our pieces are what you might call gender fluid, in that they can be worn by either men or women. Women feel very comfortable in our designs and every wearer brings their own personality, energy and attitude, whether male or female. It's a really nice balance that everyone interprets in their own way.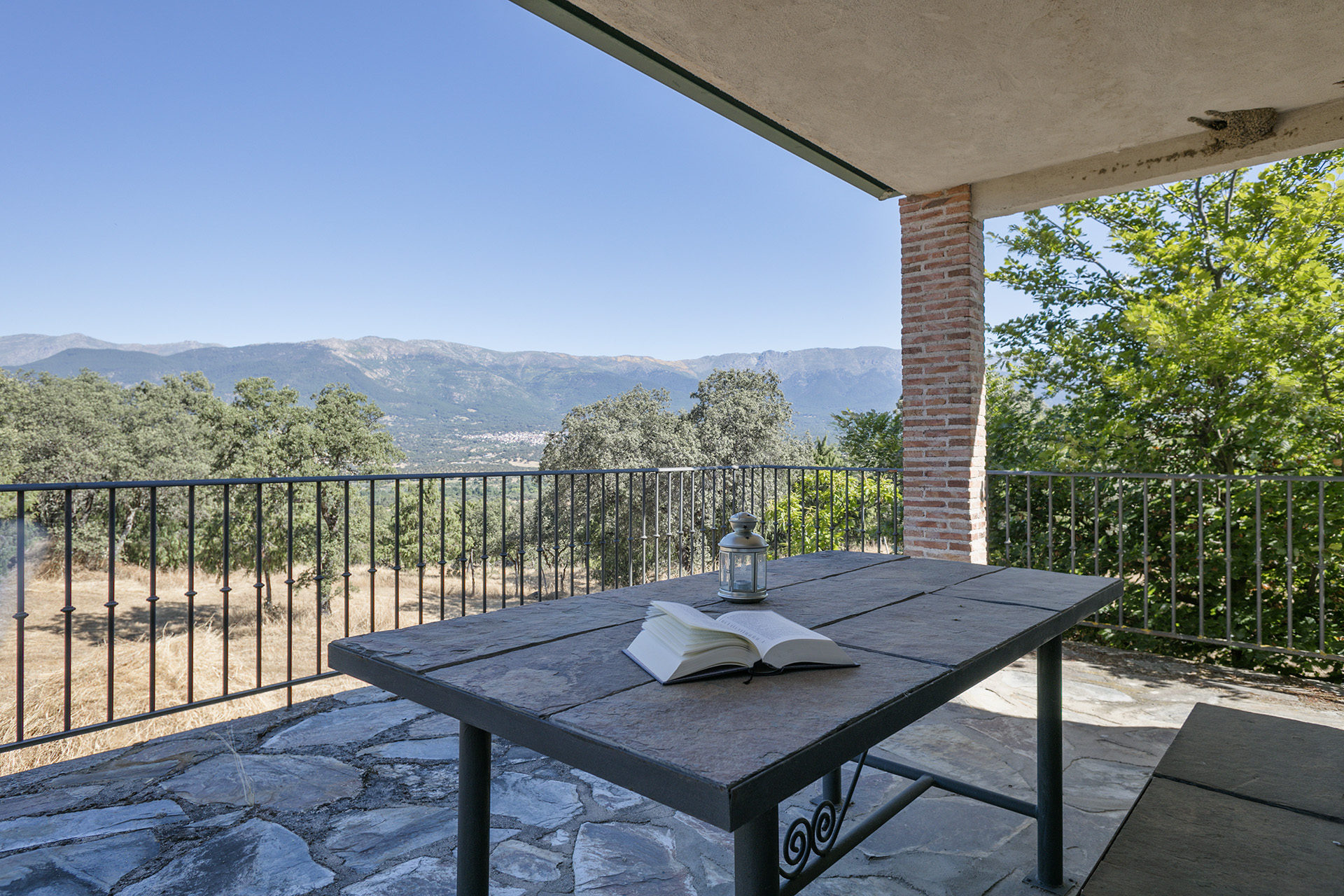 The interior design is pretty representative of our approach to fashion.

Caterina Pañeda
Haute craftmanship
How would you define the Oteyza look, and what most inspires you?
Paul García de Oteyza: We like to talk about haute craftmanship. We've been selected by the French Federation of Haute Couture to show our collection in Paris. To qualify, you need to fulfil a certain set of requirements, such as working to specific criteria for quality, professionalism, craftmanship and design, the idea being to raise the status of luxury high fashion even further.
What we've managed to achieve is a really solid foundation in tailoring, which underpins our entire vision and the sequence of pieces that we see as pushing the boundaries of fashion. Our designs reflect new codes of masculine beauty in a way that feels authentic for this moment in time. The Oteyza look combines functional, elegant pieces that are comfortable to wear with bolder experiments in crisp geometric lines and exquisite fabrics.
It's been said that the Oteyza man likes to express his feminine side...
Caterina Pañeda: We bring a perspective to our work that up until now has been hard to find in the world of men's fashion. You could argue that it's oriented towards a more feminine sensibility that men have, but it's still fundamentally masculine. We might say that Oteyza stands for sensuality coupled with strength and beauty.
Would you say that your collections work just as well on the street as on the runway?
Paul García de Oteyza: We sell clothes for everyday life; otherwise, there'd be no point. What matters is that we test out our ideas and samples with real clients. That's something we do on a regular basis, to make sure we understand their needs and perspectives. In fact, we've just launched a new streetwear collection made up of more functional pieces, like sweatshirts, polo shirts, t-shirts, sneakers... all with the Oteyza stamp. It's high-end athleisure of a kind that's more accessible to ordinary consumers.
What can we expect from the Spring/Summer season?
Caterina Pañeda: We presented our new season collection, called 'El caminante' (the traveller), just recently at the costume museum in Madrid with Leonor Watling. It includes pieces cut from linen, cotton and gabardine and our classic hats in cleaner, more minimalist style. We also have a few lighter, more nautical lines: trousers, shorts, etc. The whole collection has a freshness to it that befits the season.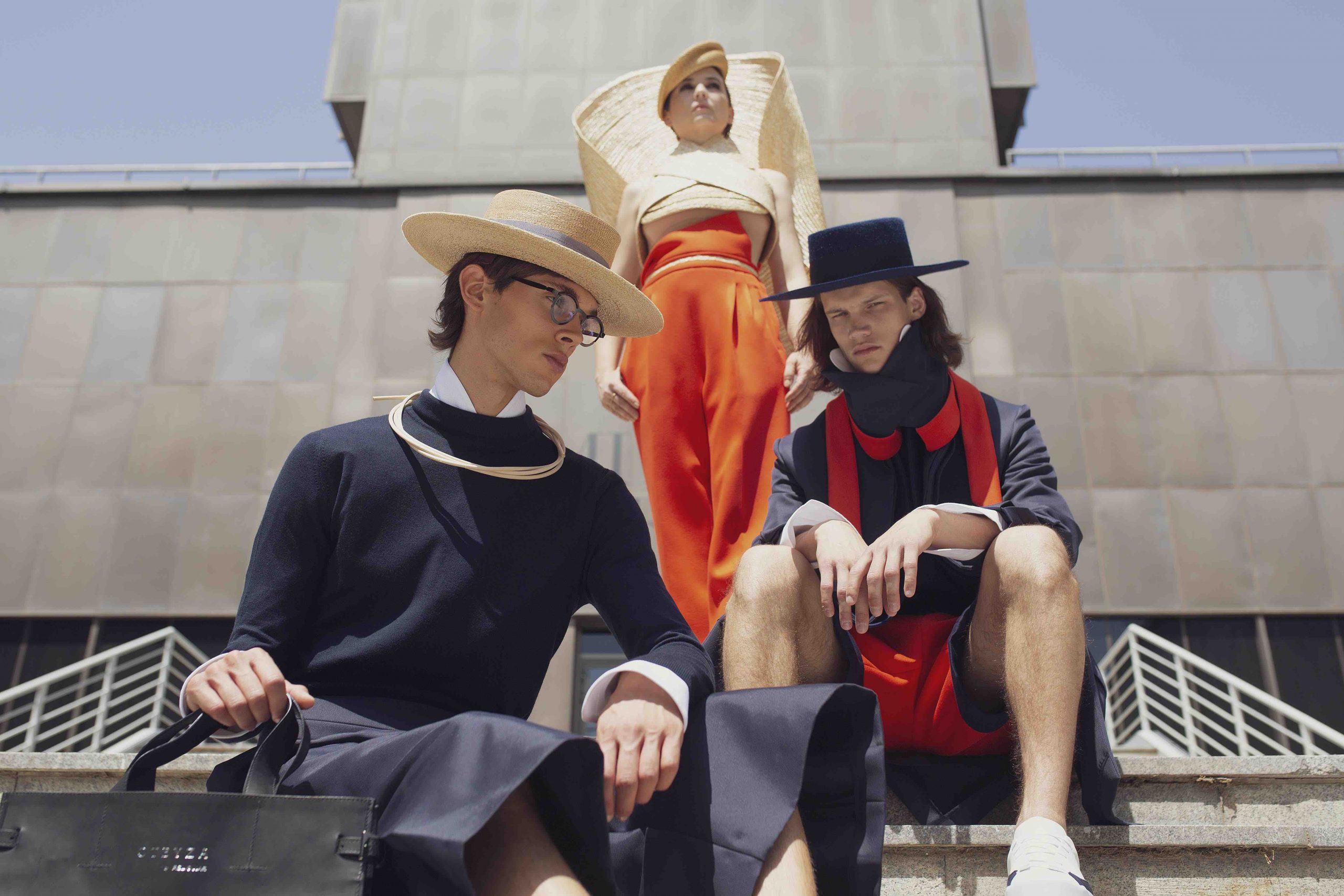 Sustainability
In this eco-conscious age, how do you accommodate sustainability in your collections?
Caterina Pañeda: Fine craftmanship, a traditional atelier, is the most sustainable option there is. An atelier creates pieces that are made to last and that clients will continue to wear for many years to come. In terms of our manufacturing process, we've been committed to sustainability for many years.
How do you envisage the future of fashion?
Paul García de Oteyza: I think that, as in everything, there are a number of different currents we could follow. You've got innovation on one hand, and the artisanal approach on the other. Craftsmanship will always play an important role. In fact, that's part of what we mean by luxury, and that won't change: traditional skills and handsewn pieces will always be highly valued. But, at the same time, we'll see a greater engagement with technology and more high-tech fabrics. That will lead to greater functionality, innovation and creativity, all of which are vital.
The future of fashion will revolve around authenticity. The pandemic has prompted people to seek a closer connection with brands with a clear value proposition and a coherent narrative. Frivolity and impulse shopping are on the way out. In this respect, I think that the multi-brand market will suffer, whereas brands that offer genuine value will be in a stronger position. Customers will appreciate labels that can't be found on every corner.